Made from super soft sustainable bamboo, these wipes are 100% compostable, vegan friendly, and feature a gentle no sting formula. With 99.4% purified water and soothing aloe vera and coconut extract, these wipes will provide a soothing experience for even the most delicate skin! 
Share
View full details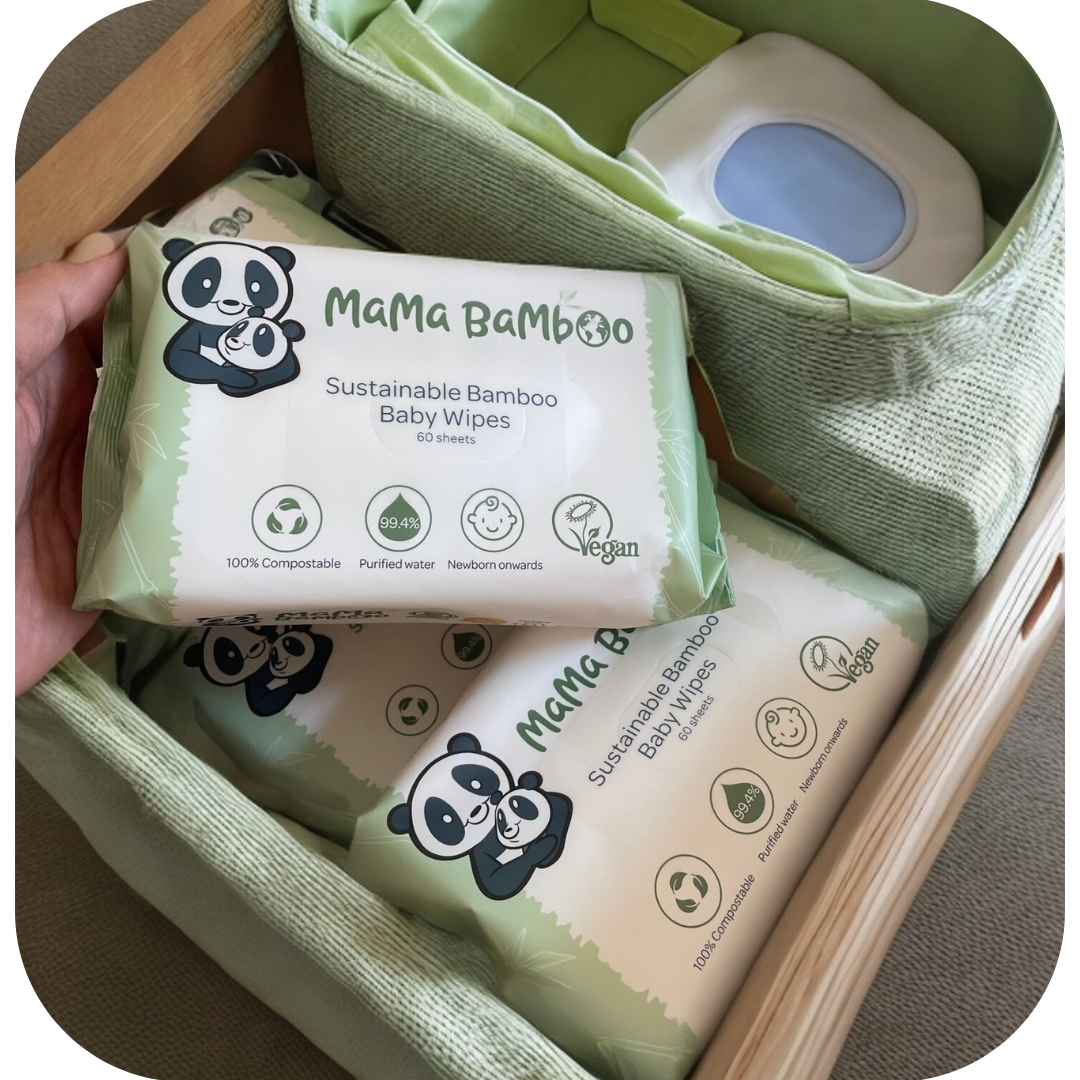 Save more when you buy Multipacks
Buy multipacks and save more per pack! You can take advantage of even larger discounts by subscribing to regular purchases.
Quantity
One off Price
10% Off
Subscribe & Save
Shipping
3 packs
£2.50 each
£2.25 each
£3.95 for orders under £30
6 packs
£2.50 each
£2.25 each
£3.95 for orders under £30
12 packs
£2.00 each
£1.80 each
£3.95 for orders under £30
18 packs
£2.00 each
£1.80 each
FREE SHIPPING
24 packs
£2.00 each
£1.80 each
FREE SHIPPING
Frequently Asked Questions
Why are Mama Bamboo wipes the "Best"?

Bamboo has natural antibacterial properties which reduce the chances of nasty nappy rash and irritation. Bamboo viscose makes our wipes soft and strong enough for the most eye-rolling of messes.

Our wipes contain 99.4% purified water and a plant-based cleansing formula which is gentle on your baby's delicate skin. No sting formula. Non drying suitable for even newborn skin.

Our wipes will compost completely in just 3 months in a home compost or food waste. Our cartons of 12 are packed in recycled FSC certified cardboard

Mama Bamboo baby wipes are registered by the Vegan Society
What are the ingredients in your wipes?

Each wipe is made from 100% sustainably sourced bamboo viscose.

We have carefully formulated our ingredients to provide a wipe that is as gentle and safe as plain water and cotton wool.

Our formula consists of 99.4% pure water and a mostly plant derived cleanser and moisturiser.

Aloe Barbadensis Leaf Extract - Aloe Vera
Citric Acid – Lemon juice - pH balancer
Disodium Cocoamphodiacetate - Coconut oil and recommended for sensitive skin
Propylene Glycol – a moisturising ingredient
Tetrasodium EDTA – a foaming agent to reduce friction on delicate skin
Potassium Sorbate - stops the growth of mould, yeast, and fungi
Sodium Benzoate - preservative in medicines and cosmetics.
All ingredients have been approved for use in paediatric cosmetic products.
What packaging do you use for your wipes?

Our wipe packaging is made from 30% recycled PET (each pack used to be a plastic bottle!). It is widely recycled at UK kerbside collections.
How quickly can you guarantee delivery?

• All products are sent with tracking enabled via established UK couriers (Evri, Yodel, Royal Mail, Fedex or DPD). Delivery takes between 3-5 days.
• You may choose to use our Express Shipping option for an additional cost. - Express Shipping (mamabamboo.com)
• Please see our Shipping & Returns page for full details.
• International Shipping
• Unless explicitly stated otherwise, all international and offshore UK deliveries will incur additional shipping charges. These will be calculated based on weight of ordered products and best available rates.
• International shipping may also incur additional VAT and Duty charges. These vary from country to country, and we recommend you check before purchase
Can I return them if I order too many?

We will accept any unopened, undamaged goods for a full refund or store credit within 21 days of purchase. Unfortunately, we cannot accept returns of opened packs due to hygiene reasons. All we ask is that you pay the return shipping cost.
How does the subscription option work?

Our subscription is a hassle-free way to have nappies and wipes delivered directly to your door with the added bonus of benefitting from a 10% to 20% discount on every order.

We have designed our subscription to be as flexible as possible so you can change size of nappy, swap or add products, change the frequency of your orders, delay or bring forward an order or cancel the subscription whenever you need to.

Please be aware that your first order is placed when the subscription is set up and will be sent out to you within the following 24 – 48 hrs.

For subsequent orders you will receive an email 2-3 days before your subscription is due to be processed, to allow you the opportunity to log in and change any aspect of the order.
Can I order wipes on subscription?

Yes, you can.

You can add wipes to an existing nappies or bundle subscription or simply create an independent subscription for wipes alone.

It is also possible to buy wipes as a one-off purchase.
I want a subscription, but my baby isn't due yet.

`Once you place your first subscription order with us, we will process and send your first box within 3-5 days. This means you'll have everything ready just in case your baby makes an earlier appearance than planned!

You can then set the next delivery date for after the baby's due date.

In your first order confirmation email, you will receive a link inviting you to open your account. Please pop online and set yourself a password. This will allow you to access the online easy-to-manage Subscription Page.

Here you can simply click on 'Update next Shipment date' and choose the most appropriate date based on your baby's due date.

Easy. You have complete control to manage your subscription to suit your baby's changing needs.